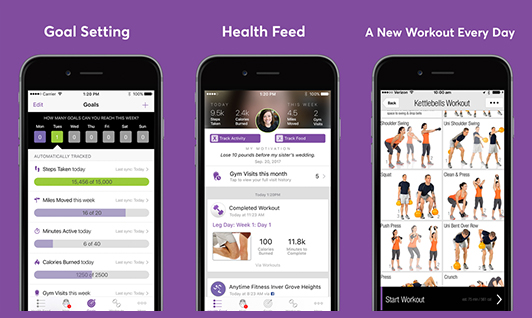 Fuel your confidence!
The Anytime Fitness® App helps our members Get to a Healthier Place® by providing easy access to over 1,100 workout plans, goal setting to stay on track and the ability to monitor their progress, both inside and outside the gym. 
Get the app today!
Available for iOS and Android Devices

Goal Setting
Stay motivated and on-track to achieve more.
Workouts
Over 1,100+ workout plans at your fingertips will keep you challenged and focused.
Health Feed
With a few quick taps, you can update your stats and monitor progress.
The Anytime Fitness App also allows you to:
View membership status
Update personal info
View gym history
View, confirm & cancel appointments
Find gym locations
View gym offers & promotions
©2017 Anytime Fitness, LLC. All Anytime Fitness App features and functionality may not be available to individuals who are not members of a participating Anytime Fitness club. Anytime Fitness clubs are independently owned and operated and participation may vary. See your local club for details.